WHAT IS AN INVERSION TABLE?
Inversion Tables for back pain are devices that are designed to use gravity to relieve some of the pressure on your spine.  Over time, the pressure you put on your spine causes it to become compressed.
Inversion Tables For Back Pain have been scientifically proven to help people who are suffering from different types of back pain.  Below is my detailed review on 5 different types of inversion.  Also included are the Pros & Cons of each & where to get the best price from.

 1. Health Mark IV18600  Pro Inversion Therapy Chair (only inverts to 70°)

2. Stamina Seated Inversion Therapy System (goes to full inversion)

3. Ironman Gravity 4000 Inversion Table

4. Nubax Trio Back Traction For Partial Inversion

5. Yoga Swing / Yoga Trapeze

6. 10 Inversion Tables Benefits (Not just for your back.  You'll be surprised.)

7. 15 Health Conditions Inversion Can Help
8. Who Shouldn't Use Inversion Tables For Back Pain
9. Inversion Tables Videos (all 5 types)
I've done inversion before. Trust me, when your back is killing you, it's such a relief to get on the machine and feel you back pain melt away. For me, it takes about 10 minutes.

Inversion Chairs



There's 3 different brands of inversion tables I would recommend.  These are the ones I have used or someone I know has used them.  I've listed them below.

■ Health Mark Pro – You remain in the seated position while being inverted. It inverts up to a 70° angle
■ Stamina Seated Inversion – Straightens out to full inversion
■ IronMan Pro 4000
HEALTH MARK IV18600 PRO INVERSION THERAPY CHAIR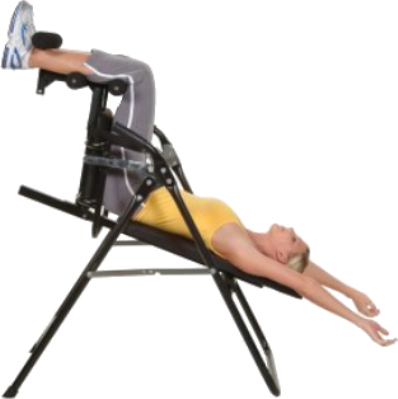 Healthmark is an excellent brand.

The Health Mark Pro inversion chair doesn't straighten out to full inversion.  It's great for people who have bad knees or week ankles.  It's also good for those people who just don't want to do full inversion. 
Just so that you know, it's awkward to fold up if you want to store it away.  If you're going to fold it up, make sure you have someone with you. 1st, lift up on the stainless steal rods on the side of the chair.  When you do that, the frame will collapse in on itself. 2nd, you than have to lay it on its side.  3rd, pull the front feet & back bracket together.
With this inversion table, it's better to find a spot where you can leave it permanently.
Health Mark Inversion Chair Features:
■ Seperate Front Leg Stability
■ The Seating is Ergonomically Correct
■ Chair is Padded
■ Adjustable Back Rest
■ Padded Support For Ankle & Knee
■ Has An Adjustable Angle Belt
■ Contains A Safety Lap Belt
■ Has Handle Bars To Make It Easier To Use
■ Made From Heavy Steel Construction
■ Instructional Manual

Specifications:
■ Holds A Person Up To 300 Pounds
■ Inverts To A 70° Angle
■ Size: 52 by 28 by 61 inches
■ Weighs 58 pounds
To buy the Health Mark iv 18600 Pro Inversion Therapy Chair, check both companies below. Sometimes there's a big difference in pricing.  At the time of this writing, both Amazon & Net 2 Fitness were the same price.
STAMINA INVERSION CHAIR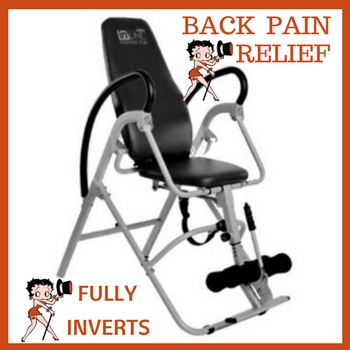 Stamina seated Inversion is my favorite because you can do either partial or full inversion.
Just so that you know, the Stamina Inversion Chair can't be folded up flat for storage.   You'll need to find a spot where it can stay permanently.
STAMINA CHAIR FEATURES:
■  Has an Upholstered Seat & Cushioned Back
■  It Has Padded handlebars
■  The Ankle Support Is Foam-padded
■  Has A leg Lock System With A Push-Button Lever To Release & Hold Your Ankles
■  The Leg Support Adjustment Helps To Fit Different Thigh Lengths
■  Footrest Is Quick & Easy To Adjust
■  The Lap Belt Is Adjustable
■  It Has A Height Adjustment For People Of Different Heights
■  Skid resistant rubber floor protectors
■  Some assembly required
■  Warranty – One-year With A 90 Day Parts Warranty

STAMINA SPECIFICATIONS:
■  Holds A Person Up To 300 pounds
■  Size: 50 x 27.5 x 54.5 inches
■  Inverts To 180°
■  Weight: 74 pounds
To get the best price on a Stamina Inversion Chair, Check both companies below.  There might be a sale on.  At the time of this writing, Amazon was the cheapest.

IRONMAN GRAVITY 4000 INVERSION TABLE REVIEW
The Ironman Gravity 4000 has been around for quite some time.  This inversion table can be folded up fairly flat when not in use.  It stretches to 6'6″

Ironman Gravity Inversion Table Features:
■  2 ½ in. Memory-foam vinyl covered backrest with double stitching
■  Rubber non-skid floor stabilizers
■  Extra-long safety handles with vinyl safety covers to protect hands and fingers
■  Ergonomically molded ankle cushions that will hold your ankles securely and comfortably
■  Has adjustable safety tether strap to control the angle you want to be inverted
■  Has 3 adjustments for different starting angles
■  Inverts to 180°
■  Removable lumbar pillow
Ironman 4000 Inversion Table Specifications:
■  Holds A Person Up To 350 Pounds
■  Size: 49 x 26 x 65 Inches
■  Inverts To 180°
■  Weight: 76 Pounds
To purchase the Ironman Inversion Table 4000, check all three companies below.  At the time of this writing, ebay was the cheapest. 
NUBAX TRIO BACK TRACTION FOR Partial Inversion

The Nubax Trio has just some of the benefits as full inversion.  Because it only allows you to do partial inversion, it doesn't help with shoulder or neck pain.
If you're someone that just doesn't want to do full inversion, the Nubax Trio is the machine to get.  Even though it's not full inversion, you'll still be able to decompress your spine.

I won't give you a detailed report on the Nubax Trio as I have a review on it already.  You can read my Nubax Trio Reviews by clicking, NUBAX.
If you don't have shoulder or neck pain, the Nubax Traction System is an awesome machine to have.  If you're short on space, it's easy to store away in a closet.
To buy Nubax Trio, check all 3 companies below.  At the time of this writing, Amazon was the cheapest.
WHAT IS A YOGA TRAPEZE?
Some people call this a Yoga Swing & you'll hear others call it a Yoga Trapeze. (same thing).  It's made like your traditional hammock.  It does the same thing as an Inversion Table plus more that you can't do with an inversion table.

FEATURES:
The main piece of the swing or trapeze is a hammock.  When you start out, this is the piece you sit on (just like you'd get into your hammock).  It's made from nylon/polyester blend — the same material that parachutes are made from.    Each side of the hammock has three straps.  One is long, the other is medium & the third strap is short.  All of these straps are attached to the knotted, slip-proof rope.  This rope is connected to high-quality metal hooks.
SPECIFICATIONS – For Yoga Trapeze made by Yoga Body Naturals

■  Made from the same material as parachutes
■  If your buying from YogaBody Naturals, it comes with a 10-year unconditional warranty & has been stress-tested to 600 pounds. If you're buying a different brand, check it out because they might not have been tested for weight & their warranty could be different.
■  Dimensions: 12 x 6 x 8 inches
■  Gym-grade grip rubber handles
■  Rock-Climber grade carabiners on sling & handles
ITEMS YOU STILL HAVE TO PURCHASE – The yoga swing or yoga trapeze comes with hooks that attach to the swing itself.  You must purchase a couple of Suspension Ceiling Hooks or the Door Frame Bar to hook the swing up to.
To buy a Yoga Trapeze, click on all 3 companies below for the best price.  At the time of this writing, Yoga Body Naturals was the cheapest. 
10 INVERSION TABLES BENEFITS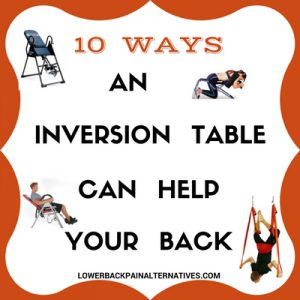 To start with, what is an inversion table?  It's a device the helps you either partially or fully invert. An inversion table is for back pain relief & neck pain relief.  It you have problems in any of the following areas, really consider trying one.
1. Realigns your spine (back pain is quite often caused from hip & spine misalignment)
2. Spinal Decompression
3. Helps relieve Lower, Middle & Upper Back Pain
4. It relieves pressure on your discs and nerve roots
5. It relieves Neck Pain
6. Improves your circulation
7. Helps to strengthen your joints, ligaments & Muscles
8. Improves flexibility in your joints, ligaments & Muscles
9. Allows your discs to absorb water to promote healing.
10. Improves your blood flow & circulation which also promotes healing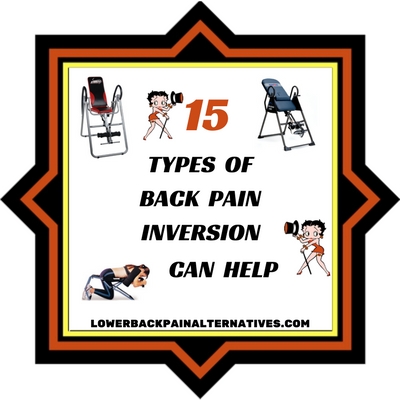 15 HEALTH CONDITIONS INVERSION CAN HELP
 1. People with Neck Pain
 2.  If you have a Pinched Nerve
 3. If you're suffering from a Herniated Disc
 4.  Have Lower Back Pain
 5.  For people with Spinal Stenosis
 6.  If you have Upper Back Pain
 7. People with Arthritis of the Spine
 8.  Degenerative Disc Disease
 9.  If you have Sacroiliac Joint Dysfunction
10.  Sciatica Treatment
11.  People with Scoliosis
12.  If you suffer from a Herniated Disc
13.  You have Facet Joint Syndrome
14.  People with Fibromyalgia
15.  Anyone who has Vertebral Compression Fracture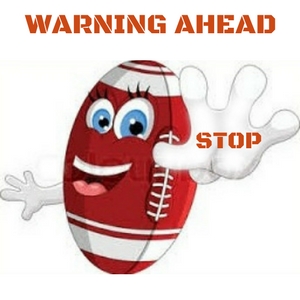 WHO SHOULDN'T USE INVERSION TABLES FOR BACK PAIN

The following people should not use an Inversion Table without the consent of their doctor:
■  Anyone using anti-coagulants
■  If you're Pregnant
■  If you've had a Stroke
■  People with Hiatal Hernia or Ventral Hernia
■  If you have severe Spinal Cord injury or Spinal Surgery
■  People with Heart or Circulatory Disorders
■  If you have Hypertension or High Blood Pressure
■  Anyone who has just experienced a recent Fracture or Skeletal Implant
■  People with Osteoporosis
■  If you have Middle Ear Infection
I will never be able to repeat this enough times. Always check with your doctor first before trying any type of machine to relieve your Neck or Back Pain.
INVERSION TABLES VIDEOS
Health Mark Inversion Chair Video

         

Stamina Inversion Chair Video



IronMan Gravity 4000 Video

                       

Nubax Trio Video



Yoga Inversion Swing Video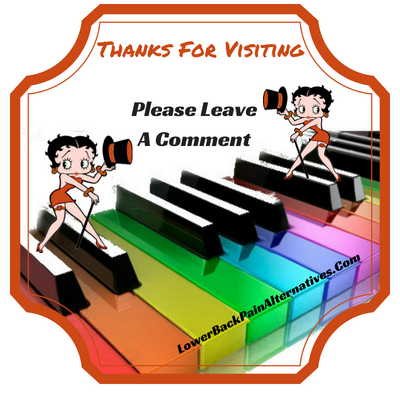 If you've tried an Inversion Table For Back Pain, please leave a comment below.  Let us know what type of inversion you used & for what type of back pain.  Was it for your lower back, middle back or upper back?  Don't forget to let us know if it helped you or not.
Not only will the above information help us here at, Lower Back Pain Alternatives, it'll help our followers too.  Thank you for stopping in to read my review on, Inversion Tables For Back Pain.