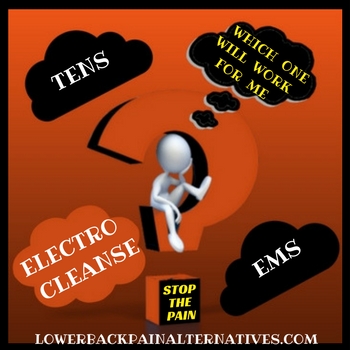 It's important to know the difference between TENS vs EMS vs Electrocleanse.
When it comes to back pain, you want to be using the right machine.  You don't want your pain level to increase.
Whether your Back Pain is caused from overused or injured muscles or scar tissue, an EMS, TENS or Electro Cleanse can make a world of difference.
Right now I'm using an EMS machine.  You can read my testimonial at the end of this article.

I've listed all 3 types of machines below.  I've also explained when to use each one and what conditions they'll help.  At the end of this article, I've listed the types of people who Shouldn't Use a Tens, EMS or Electrocleanse.  You'll also find where to get the Best Deal at the end of each review.


1.  What is A Tens Unit Used For
2.  What Health Conditions Are EMS Machines Used For
3.  Electrocleanse Machine – Natural Remedy For Parasites That Cause Back Pain
4.  Symptoms Of Parasites
5.  How Does Electrocleanse Help Back Pain
6.  Who Shouldn't Use a Tens, EMS or Electrocleanse
TRANSCUTANEOUS ELECTRICAL NERVE STIMULATION
What is a Transcutaneous Electrical Nerve Stimulation?  It stands for Tens.  It's a machine used for Pain Relief Therapy.
It helps to block the pain by stimulating the sensory nerve endings. It's quite often used after a recent injury such as pulled muscles, strains or sprains.
WHAT IS A TENS UNIT USED FOR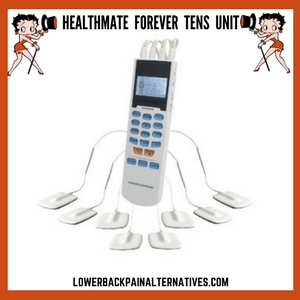 Like I always say, find out from your doctor what the exact cause of your back pain is — there's no point in wasting time or money treating the wrong problem.
Many people have had positive results using a Tens for the following:
■  Arthritis (rheumatoid or other kinds)
■  Bursitis
■  Cancer Pain
■  Carpel Tunnel
■  Fibromyalgia
■  Joint Pain
■  Multiple Sclerosis
■  Sciatica
■  Sprains
■  Stroke Victims
If you have one or more of the above, do give it a try. If your health concern isn't one of the above, read my review below on an EMS machine or Electrocleanse for another Back Pain Alternative.
To buy HealthmateForever, click on one of the buttons below.  From time to time, these companies have sales on it.
ELECTRIC MUSCLE STIMULATOR
What is an Electrical Muscle Stimulator?  It's called EMS for short.  It's used to strengthen or re-educate muscles. They're usually used in the early stages of physical rehabilitation after an injury involving the muscles. It's also used for the rehabilitation of muscles that haven't been used for a long period of time.  An EMS machine is sometimes referred to as neuromuscular electrical stimulation.
WHAT HEALTH CONDITIONS ARE EMS MACHINES USED FOR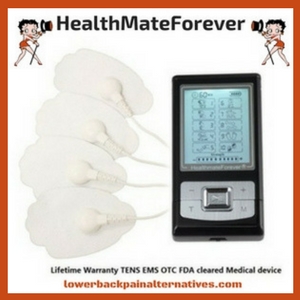 Many people have had great results using an EMS unit for the following health conditions:
■  Damage to bones
■  Joint Damage
■  Damage done to the muscles
■  Helps To Prevent Pressure Sores.
The HEALTH MATE FOREVER uses a therapeutic waveform to provide a deep tissue massage to promote natural healing.
I have a HealthMateForever unit. To be honest, the machine looks really cheap. It also looks like it wouldn't last for more than a couple of months.  This is really deceiving.  I've had mine for a couple of years.    I can't tell you the number of times I've dropped it.  It's still in one piece & works as good as when I purchased it. The tens electro pads that come with the unit really last a long time.  The replacement pads are also cheap.

This Back Massager also helps with the following:
■  Breaking the pain cycle & aiding in the normal healing process
■  Sending electrical impulses to the painful area in your body
■  It blocks pain signals from being transmitted to your brain
■  Helps raise your endorphin and encephalitic levels which are natural pain killers
■  Delivers small pulsating currents to your muscles & nerve endings
■  Encourages your blood circulation, muscle stimulation, and healing
■  Sends electrical impulses to stimulate your muscles, causing them to contract and relax. This, in turn, helps strengthen the affected area
To purchase the HealthmateForever click on one of the buttons bellow to make sure you're getting the best price.

ELECTROCLEANSE



Before you consider the Electrocleanse, it's important to go to your doctor first & get tested for parasites.
If Parasites are causing your Back Pain, an Electrocleanse will get rid of them for you.
Never go by what you think you have. Make sure you're treating the right Back Pain symptom.
SYMPTOMS OF PARASITES
Please don't think that just because you have one or more of the symptoms below you have parasites.  All I'm saying is if you're experiencing any of the following, it might me a good idea to see your doctor.
Toxins from these parasites can pool in the joints & muscles causing the following:
■  Muscle Pain
■  Joint Pain
■  Muscle Cramping
■  Back Pain
■  Pain In The Thighs
■  Pain in the Shoulder Area
If you already know your back pain is from parasites, click the button below.  It was the only place I could find that sells them.


HOW DOES ELECTROCLEANSE HELP BACK PAIN?
Electrocleanse has precise electrical frequencies.  These frequencies exterminate harmful parasites from your body.  These parasites can cause your joints, muscles or tendons to become inflamed.  Electrocleanse is one of the few natural remedies for parasites.  These Parasites that travel to your joints & muscles are often misdiagnosed by doctors as arthritis or just muscle pain.  The sad thing is, the money you spend on the pharmaceuticals your doctor prescribes will be for nothing as they won't kill parasites.

Electrocleanse Pros
The following is a list of the good points in purchasing an Electrocleanse Unit.
■  It's A Natural Pain Relief Remedy
■  Removes Bacteria, Parasites & Viruses
■  It's Guaranteed To Work
■  2 Year Warranty
■  90 Days Money Back Guaranteed. (You do have to pay the shipping back)
■  Free Shipping When You Purchase
■  Save Money With 1 Payment or Take 3 Easy Payments
If you've been diagnosed with parasites, click ELECTRO CLEANSE and get rid of them naturally.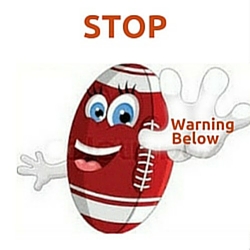 Who Shouldn't Use TENS, EMS or Electrocleanse



Don't use any of the above units before consulting your doctor if you have one or more of the following:
■  Pacemaker
■  Any form of malignancy
■  Impaired circulation
■  Heart condition
■  Epilepsy
My Opinion At Lower Back Pain Alternatives
When it comes to getting rid of your back pain, these machines are one of the first places to start.  I've used my Tens machine numerous times for pulled muscles.
A couple of years ago, I purchased the Health Mate Forever.  I absolutely love this machine.  I've used it for Sciatica which hasn't bothered me now for over a year.  I have Scoliosis so I have major problems with my muscles.  When I have flare ups this is the first thing I use.  That along with my Infrared Heating Pad.
Right now I have ITB impingement syndrome.  It affects the muscle that runs down the outside of your leg.  When you have Scoliosis, you have all sorts of muscle problems.  I'm having really good results so far.  It might take a month or so to get that muscle to stop tightening up.  My point is, you need to have patience.  You also need to keep at it.  I know it's just a matter of time & perseverance until it stretches that muscle for me.
What I really liked about the HealthmateForever machine is that you don't need batteries.  It has a rechargeable battery.  I was really surprised how long it lasts. Another surprising thing was how long the pads stayed sticky for.  I've had other machines where you use the pads 3 or 4 times and they don't stick anymore. If you want to purchase the same one I did, click Amazon's, HealthmateForever.  At the time of this writing, it was the cheapest on Amazon.

If you'd like to read some of the other articles I've written on Back Pain Relief Products, click Product Reviews.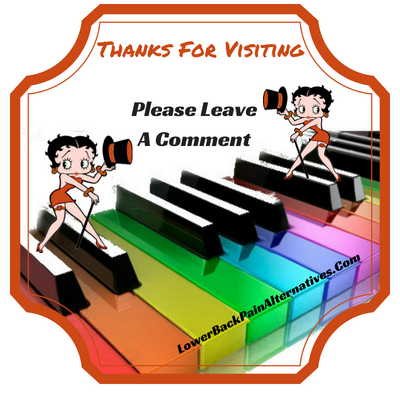 Please leave a comment below if you've used either EMS, TENS or Electrocleanse.  Let us know what brand you bought & the reason for purchasing it.  Don't forget to give us your opinion, good or bad.
Thanks for reading my article, TENS vs EMS vs Electrocleanse.