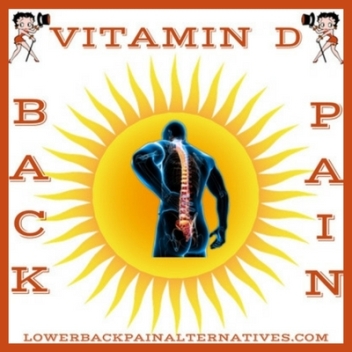 Vitamin D and Back Pain, go hand-in-hand.  Don't get me wrong, just because you have lower Back Pain doesn't mean you're deficient in vitamin D. 
The older you get, the less Vitamin D you're capable of absorbing from the sun. According to the National Institute of Health, as we age, our skin becomes less able to synthesize the vitamin efficiently.
You can always get an independent lab test done to make sure.  There's no point spending money on something you don't need. Just click, LAB TESTS

2.  Vitamin D Deficiency Diseases
3.  Vitamin D Deficiency Symptoms
4.  Vitamin D Overdose Symptoms & Allergic Reaction
5.  How Much Vitamin D Should You Take
If you're in a rush & know for sure you're deficient in Vitamin D; the following companies are where I buy my Vitamins from.  According to consumershealth.org, these companies have the amount of vitamin D that they have listed on their labels.
Check all three companies as one of them might be having a sale.  Botanic Choice has been around since 1910 & LifeExtension has been in business since 1980.

VITAMIN D AND BACK PAIN



Yes, being deficient in Vitamin D can cause Back Pain.  Vitamin D Deficiency causes many other diseases too.  I've listed them below for you.  Being deficient in Vitamin D can cause your bones to be porous, your muscles to weaken & increase your chance of incurring a fracture.  Vitamin D deficiency can also cause you to have chronic muscular pain.

VITAMIN D DEFICIENCY DISEASES
■  Arthritis
■  Fibromyalgia
■  Osteoporosis
■  Osteopenia
Any of the above can cause your back to be extremely painful.
Your best bet is to have your doctor test Vitamin D Levels in your body.  Just because you have low vitamin D levels doesn't mean that's the only thing that's causing your Back Pain.  Your Back Pain could be caused by several different things.

7 SYMPTOMS OF VITAMIN D DEFICIENCY
The following are symptoms of not taking enough vitamin D.  If you have some of the following symptoms, go to your doctor & have him check your blood.
■  Back Pain
■  Bone Pain
■  Joint Pain
■  Muscle Pain
■  Muscle Cramps
■  Fatigue
■  Depression
SYMPTOMS FROM TOO MUCH VITAMIN D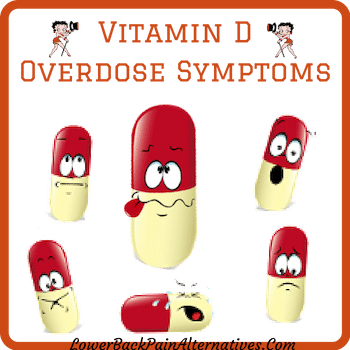 Do you have any of the following symptoms?  If you do, it could be that you're taking too much Vitamin D.
Taking too much Vitamin D can cause you to experience some of the following:
■  Dry Mouth
■  Metallic Taste
■  Sleepiness
■  Headaches
■  Loss of Appetite
■  Nausea
■  Vomiting
■  Constipation
Vitamin D3 Side Effects –Too much Vitamin D can cause high calcium levels that can be very harmful to you. Along with the Vitamin D side effects listed above, the symptoms of Vitamin D3 Overdose are: seizures, confusion & irregular heartbeat.
Vitamin D Allergic Reaction – For the odd person, too much vitamin D might cause the following symptoms: itching, rash, swelling in the face, tongue or throat, severe dizziness & trouble breathing.
For more info on interactions with medications, herbs, supplements & foods, Medline Plus has excellent info.
VITAMIN D3 BENEFITS
There are numerous benefits to vitamin D3.  Some of those benefits are:
■  Lubricates your bones
■  Regulates cellular growth
■  Healthy cell activity
■  Soothes aching joints
■   Strengthen your Bones
■  Increases your muscle strength
■  To relieve minor muscle pain
■  Increase your flexibility
VITAMIN D3 DOSAGE
How much vitamin D should you take?  Remember, there's Vitamin D3 in some of the foods you eat.  Taking too much Vitamin D does have its side effects.  I've listed some of them earlier on in this article.
According to Dr. Weil, we should be getting 2,000 I.U. of Vitamin D3 a day. What you don't get from natural sources, you can supplement with Vitamin D.  He suggests purchasing Vitamin D3 (Cholecalciferol)
VITAMIN D FOODS LIST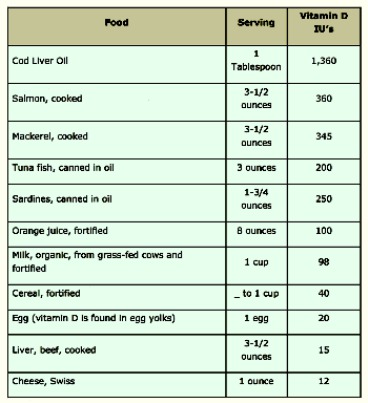 It's always better to get as many vitamins as you can from the foods you eat.
Try incorporating Natural sources of Vitamin D into your diet from my list below.
■  Liver
■  Mackerel
■  Sardines
■  Cod
■  Tuna
■  Herring
■  Catfish
■  Cod liver oil
OTHER FOOD SOURCES WITH VITAMIN D



■ Milk
■ Yogurt
■ Egg Yokes
■ Sunshine
■ Mushrooms
■ Margarine
■ Cereal
■ Bread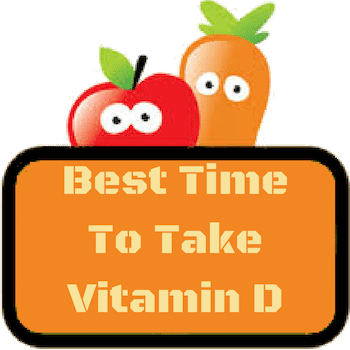 Vitamin D3 is absorbed the best when taken with food containing fat.
A study at the Cleveland Clinic showed taking Vitamin D with the largest meal each day increased the blood level of Vitamin D by an average of 50%.
BEST VITAMIN D SUPPLEMENTS
When you're purchasing Vitamin D, make sure its D3 (Cholecalciferol)
I purchase my vitamins from the companies below.  Whichever company is selling what I want for the lowest price is the one I buy from.  Both companies below are highly reputable.  Botanic Choice has been around since 1910.  LifeExtension has been in business since 1980.

Back Pain can be caused by many different things.  It could also be caused by inflammation & PH Balance.  Read my Article, Inflammation, PH Balance & Back Pain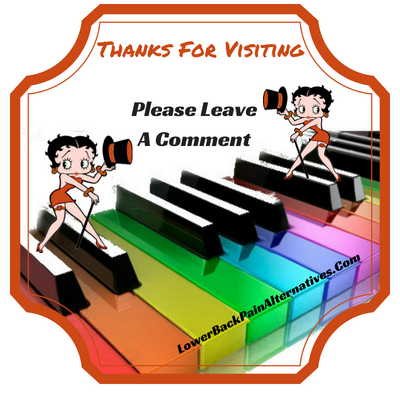 Vitamin D deficiency is just one cause of Back Pain.  If you've taken any Vitamins or Herbs that have helped you, please leave a comment below.
Thank you for stopping by to read my article on, Vitamin D & Back Pain.